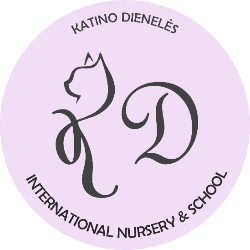 VšĮ "Katino dienelės"
Education
Location:
Lobio g., Vilnius, Lithuania
Company Size:
27 Employees
Mean Salary men/women:
673.99 / 1211.89 EUR
Company overview
"Katino Dienelės is a private nursery in Vilnius, educating children from 1.5 to 6 y.o. from different cultures and languages. The nursery approach to children's education is oriented towards democratization, which is based on the principles: the creation of a natural environment; sincere communication with the children, without restricting their freedom of choice; close communication and cooperation with parents; the correct and purposeful methods and techniques used by the teachers and the staff, which foster the child's individuality and development. We are committed to excellence in our nursery services and to providing the highest quality education for our children and their parents!
Company gallery